Welcome to the El Moore
The Nature of Sustainable Urban Living
The El Moore has stood at the corner of Second Avenue and West Alexandrine Street since 1898. From its early days as spacious, upscale flats on Detroit's near-rural periphery to its transformation, thirty some years later, into a crowded, Depression-era boarding house; from its central place in the gritty but singular Cass Corridor story of the 1960s and '70s to its late 20th century decline and eventual vacancy, the El Moore has been both witness and mirror to the extraordinary changes in the neighborhood and city around it.
Now, as Detroit starts the next chapter in its ongoing story, the El Moore too is embarking on a significant new journey, one that honors its remarkable past while looking forward to a more sustainable future. Today, as a sustainably rehabilitated and operated residential apartment building and urban lodge, the El Moore welcomes both long-term residents and guests to explore the intersection of nature, community, and the city together.
Lodge · Residences · Neighborhood · Sustainability · Contact
---
Overnight Accommodations in a vibrant Detroit neighborhood
Experience the nature of sustainable urban lodging at the El Moore. Our Lodge offers guests a range of beautifully appointed accommodations embedded within a diverse and welcoming residential community. The Lodge provides a thoughtful, comfortable, and sustainable guest experience while offering unsurpassed customer service. Enjoy the uniquely immersive and personal experience of participating in this living, growing, urban community.
---
Historic Annual Lease Residences
Experience the nature of sustainable urban living at the El Moore. Our resident community is comprised of a diverse group of neighbors who share the belief that our relationships to our environment and to each other go a long way toward enhancing our quality of life. We are privileged to live in a distinctive, historic 1898 apartment building that has been renovated to support our sustainability goals while providing wellness, comfort and aesthetic beauty. More information on the El Moore Residences can be found here.
---
Our Neighborhood
Experience the Past, Present and Future of Detroit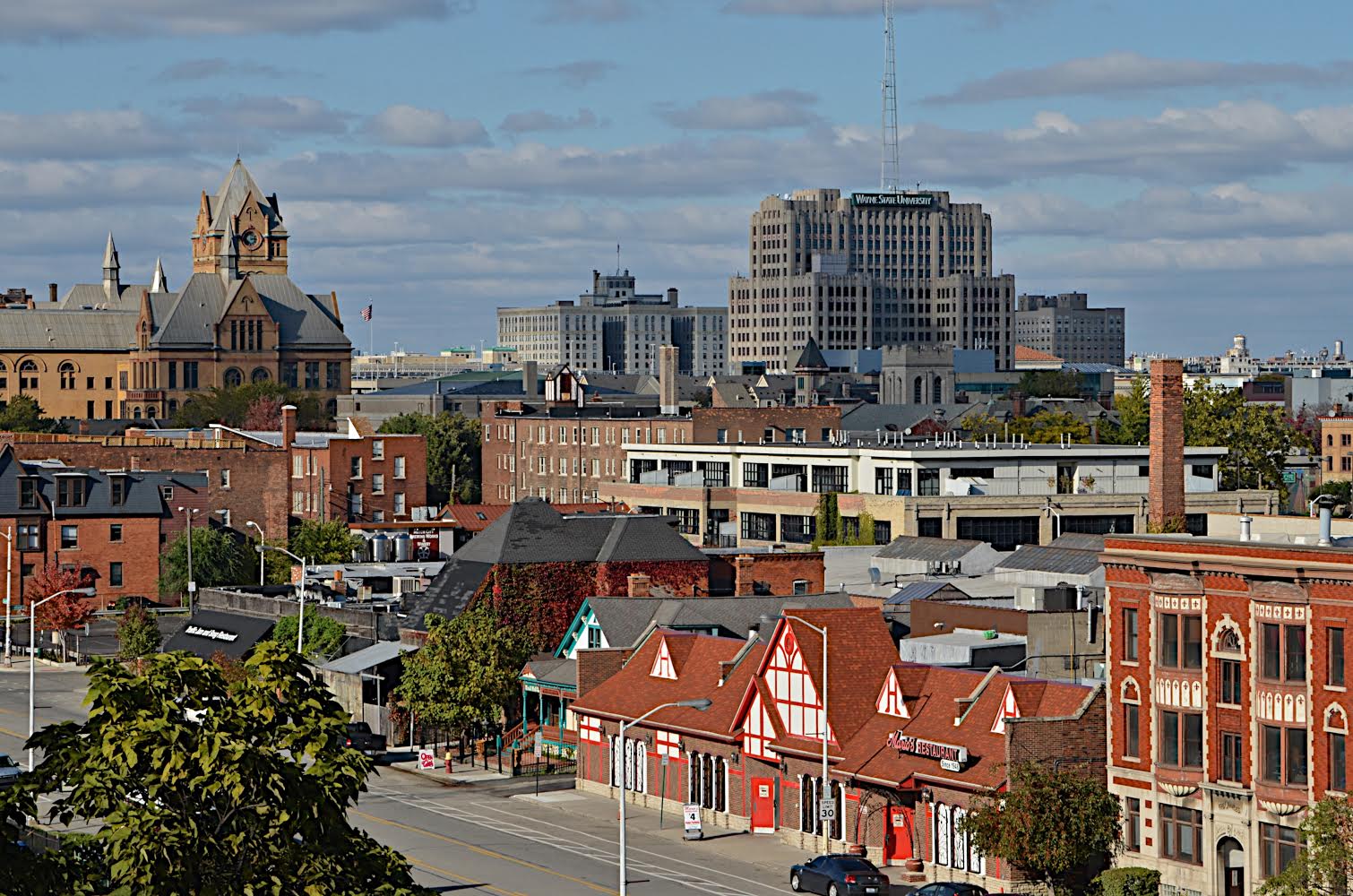 Whether you call it Cass Farms, the Cass Corridor, or Midtown, our neighborhood is a thriving, vibrant community of residents and small businesses as well as some of Michigan's most cherished and storied institutions. Midtown Detroit is home to internationally renowned jewels like the Detroit Institute of Arts, the Detroit Symphony Orchestra, and the Detroit Public Library, as well as distinguished learning and research institutions such as Wayne State University, The College for Creative Studies, and the Detroit Medical Center. Residents of the El Moore and visitors to the El Moore Lodge will be just steps away from a large and growing number of shops, cafes, restaurants and grocery stores in a walkable, historic district that is at the forefront of Detroit's ongoing revitalization.
Here are some blog posts written about our neighborhood.
---
Our Commitment to a Sustainable Future
The El Moore is a deep exploration of the nature of sustainable urban living. It is a sister project to the Green Garage, a sustainable workplace located just a few blocks away.
Sustainability has been carefully integrated into every aspect of the El Moore. We care about the earth and have taken steps to significantly lower our impact on it. We've designed our energy usage to be 20% of an average apartment building's by using super-insulated walls and ceilings, geothermal heating and cooling, super low-e windows, photovoltaic solar panels, and energy efficient appliances. We reduce our waste by recycling and composting, and our water usage by harvesting rainwater and using low flow fixtures.
Sustainability starts with our relationship with the earth, but must also include our relationship with each other. We believe that strong communities are essential for a sustainable future, and the resident community that lives at the El Moore is at the heart of our exploration. Our residents' health and well-being has been accounted for in the El Moore's design in the form of extensive natural daylight, fresh air ventilation, windows that open, sound-proofed walls and ceilings, comfort-driven design and lead-free plumbing.
We're discovering a new, harmonious balance between nature and the urban environment at the El Moore, using the triple-bottom line framework as a starting point for our designs. We then let the existing elements (both natural & man-made) and science guide us from there. What better place to embark on this exploration than the city of Detroit, a place with a rich history of resilience and creative spirit?
---
Contact Us

Ways to Reach Us

Email: lodge@elmoore.com
Toll Free: 844-ELMOORE (844-356-6673)
Local: 313-924-4374
Postal: 624 West Alexandrine Street, Detroit, Michigan 48201